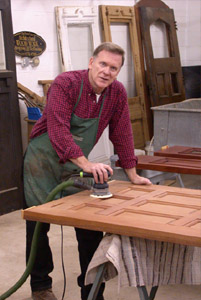 The Front Gate LLC was founded by Gregory Doublestein in his home shop in 1994 and has grown to require its present facility of 6,500 sq ft. near downtown Indianapolis. The company is an architectural wood stripping, restoration and refinishing business, specializing in historic and exterior entry door restoration. Although focusing on wood doors, its foundational purpose is coating removal and professional, custom finishing services for almost any product made of wood (large or small) that can be transported to the facility. Wood doors and windows, baseboard and trim, staircase components, mantels, church pews and artifacts, boat fixtures and products made from wood found in an architectural salvage house are the most typical items brought in for stripping and/or refinishing. Unique, hand-made items are particularly welcome! The Front Gate LLC does NOT strip and refinish hardwood flooring, house siding, fencing or decks. It will, however, under certain circumstances, contract for in-home or on-site stripping and refinishing work, particularly relating to entry door restorations that necessarily involve a door frame and transom or sidelights. The company will also handle installation/fitting/weather-stripping issues, as well as hardware and glass considerations as part of a given restoration project.
Potential customers include homeowners; builders and contractors involved in historic restoration, home improvement, and new construction; facility managers for government buildings and public facilities such as historic landmarks, schools and universities, museums, and libraries; as well as their counterparts in the private sector in assisted care/nursing homes, condominium associations and churches.
The Front Gate LLC was created to bring back "restoration" to the restoration business. Even though it may take more time and be the more expensive alternative, The Front Gate LLC's first goal is "to preserve", not replace. While there are times when replacement is necessary due to extensive damage or poor construction, more often than not (when it comes to wood) it is worth trying to save the original piece. And "old" doesn't have to be ugly! The goal in every restoration is to keep as much of the original as possible (and if replacement parts are necessary, we use the original parts from other similar items or make new parts from old wood), make it structurally sound, and finish the wood both to preserve it and bring out its natural beauty with as little future maintenance as possible.

We consider it a joy to be the difference-maker in saving what many might otherwise send to the trash. We look for the story underneath all of those layers of paint or varnish, and encourage our customers to share in the excitement of authentic and historically accurate restoration. The pieces that we are privileged to restore have their own unique histories, and we take very seriously our participation in "writing" the next chapter. The owner of the business has studied under some of the finest wood finishers in the country, attends restoration conferences and seminars at least twice each year to stay current in the field, participates actively in a professional wood finishers internet forum, and is constantly on the lookout for new and better products and methods that will make The Front Gate, LLC even more relevant to the customers it serves.
Although we focus more on projects of historical significance, our architectural wood stripping and finishing work is not confined to the "old stuff". Too often, new modern-day wood projects require "restoration" before their time, and we bring the same enthusiasm and expertise to filling this gap in the service network as we do to our historical work. Poor construction, the wrong products, and inadequate finishing methods often doom wood items like entry doors to failure from the start. It does not have to be that way. At The Front Gate, LLC., we understand wood, what it takes to make it work for us, and how to bring out its natural beauty. We believe that when it comes to wood, a professional finishing job must take into account the type of wood being finished, its intended use, and finishing surfaces of the wood that are hidden from view with much the same care as those places readily seen. We don't just "color" the wood, nor do we apply the cheapest and most readily available finish. We understand that different finishes must be used depending on whether or not they will be exposed to the sun, water, body heat, etc. We also understand that most of the time "beautiful" has an element of art to it that must be created...it doesn't come in a can, or generally from the factory.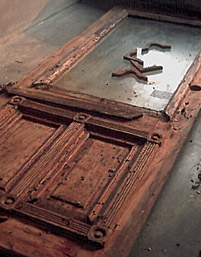 When it comes to coating removal, there are different standards in the wood stripping business of what constitutes "clean", and more often than not, the last 5% of the stripping process is as time consuming as the first 95%. We work with our customers to understand what their expectations are so that we can price the work fairly, often stripping a small sample piece without charge in order to see how difficult (and therefore, expensive) the project might be before any commitments are made. And its important to us at The Front Gate LLC that we approach our work with a view to being good citizens in using environmentally friendly products and processes wherever possible. We treat our wastewater in-house before sending it into the sewer system, and we capture our hazardous waste for proper disposal. It costs more to do this, but if we are going to preserve Americana on the one hand, it is important to us that we don't harm it on the other.